Developer encourages youth to become entrepreneurs
BY JOAN CARTWRIGHT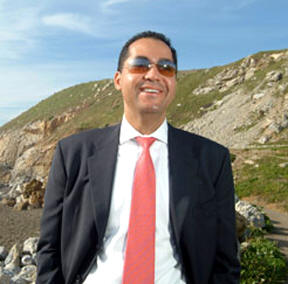 Each setback in life is really a blessing in disguise. That's the motto of multibillion-dollar developer R. Donahue Peebles, who encourages young people from the African Diaspora to become entrepreneurs. Peebles, 47, of Coral Gables, is the first African American to build on Miami Beach. "When others lose faith in you, keep faith in yourself," he said.
Born in Washington, D.C., his parents divorced when he was 5, and his mom raised him. She was a secretary who eventually earned a real estate license and opened a brokerage company.

Her brother bought a building in Detroit for her real estate offices. Peebles and his mother lived in Detroit for five years.

He said the attitude of his mother's family is at the root of his success.

"They imposed no limitations on me. This is the primary element of creating success -- being able to see great opportunity even in setbacks. Always be ready to do battle for what you believe in and want to achieve."

Peebles expounds on his belief in entrepreneurship in his book, The Peebles Principles: Tales and Tactics from an Entrepreneur's Life of Winning Deals, Succeeding in Business, and Creating a Fortune from Scratch (Wiley, 2007).

He donated 50 of his books to the African-American Research Library and Cultural Center near Fort Lauderdale. The library will distribute the books to students in a program funded by a Summer Art of Learning Team Grant (SALT) coordinated by Ann Williams.

"Peebles can elevate the dialogue in the black community about the importance of operating businesses as a method of acquiring and keeping wealth," Williams said.

The recipient of an honorary doctorate in hospitality management from Johnson & Wales University, Peebles said he believes "there's no excuse not to succeed. If I can do it, so can they. The American entrepreneurial system can make it happen.''

And while Peebles has built a fortune through developing buildings around the country, he acknowledges that it's harder for women and minorities to succeed because of racism.

Women and minorities are "looked at with limiting eyes. But my mother was my first role model," he said.

"My father didn't have a big role in the direction that I went,'' he said. "We spent weekends and holidays together until my teenage years when there was some distance between. He didn't support us. Mom was 16 and Dad was 26, so they weren't compatible. Dad was a clerical government employee with a part-time auto repair business. But he only dreamt of owning a gas station. He didn't take the risks to make it happen, which is a key to entrepreneurship."

Peebles said he believes there are more possibilities for wealth creation in business than in sports or entertainment.

"Kids all over the country try to emulate athletes in the NBA and NFL or they want to be like entertainers who sell a million records,'' he said. "But they need to learn from entrepreneurs like me. You must have a game plan and stick to it. You need discipline and vision.''

After one year in the Rutgers University undergraduate medical program, Peebles left the school to pursue other opportunities. The skills his mother helped him build at fostering relationships in the community worked in his favor.

He and his mother eventually moved back to Washington, D.C.

His mother arranged for him to be a page in the Capitol building there, giving him the opportunity to meet people with political power.

Mother and son supported Marion Barry's first mayoral campaign, and worked on his re-election against Patricia Harris. They did a lot of fund-raising for Barry, and developed a rapport with many campaign workers who went into Barry's administration.

Peebles earned the confidence of Barry, who became the mayor.

Barry was determined to create more wealth in the African-American community in D.C. He capitalized by walking through the door and acting on the opportunities presented to him.

"No one should hold your hand. You must see it, grab it and hold on to it," Peebles said.

Despite doubts about his being too young, Barry appointed Peebles to the Washington, D.C. Property Tax Appeal Board, in 1983, and a year later, when he was 24, he became chairman and a major player in the real estate arena.

At 27, Peebles won the bid to build an office building and signed a lease with the District of Columbia worth over $45 million, despite opposition from other bidders who informed newspapers that he had an inside deal.

"I had to be better to get the deal. My offer was less expensive and the mayor was committed to me, but it was the lower price that made it hard to attack," Peebles says.

Before age 30, Peebles was a millionaire.

But a subsequent failed deal in D.C. drove him to relocate to Florida, where he had no business dealings at all.

Yet in 2002, he responded when lawyers and business people encouraged him to bid on the Broward County Convention Center Hotel project.

"Sometimes turning vinegar into wine doesn't work. You need support,'' he said. "[Current Broward County Mayor] Joe Eggelletion was the only African-American commissioner. This was not the environment in which to do business."

County Commissioner Ilene Lieberman said the economics of Peebles' deal were not right for the county at that time.

The county is currently seeking a better deal with a clearer vision for the project, Lieberman said.

Since the convention center hotel deal fell through, however, Peebles has built several luxury projects, including Residences at the Bath Club, the Royal Palm Hotel and The Lincoln, all in Miami Beach; and the Courtyard by Marriott Convention Center and 10 G Street, N.E., two separate buildings in Washington, D.C.

Peebles did not lose confidence when The Royal Palm Hotel project was hit with setbacks and delays in negotiations that dragged on.

He capitalized on the opportunity to increase his percentage. When his partners, Intercontinental Hotels, lost confidence in the project, he bought them out, gaining 100 percent ownership.

Media exposure about construction defects and cost overruns forced the city to bargain with him on different terms. They removed previous prohibitions to build a hotel and condominium that unlocked tremendous value for him.

When he sold it, his investment of $80 million yielded $128 million cash. He retained ownership of 12.5 percent of future sales, bringing the deal to $145 million.

Peebles says he learned that growing his business meant that he must be willing to sell his properties.

"I made enough money to free up my time and our Florida deals helped Miami Beach evolve as a world-class destination," he said.

Peebles says the storm to buy property in Florida resembles "the herd mentality" addressed in his book, written with J. P. Faber.

He planned his book several years ago but became busy with development work.

When he read an article on a book by Donald Trump, he realized that someone with no network, opportunity or colleagues needed to write a credible book on becoming successful from the ground up.

Peebles' mission is to talk to young people about entrepreneurship and to promote the idea that one young reader can make a difference.

Cathy Hughes of Radio One, Inc. asserts that the book "is for anyone seeking to be involved in business. The ground rules found in each chapter are absolute gems."

Peebles Development Corp. is developing a 90-acre parcel, 15 minutes south of downtown San Francisco, to include retail shops, a restaurant, spa and residential units. He has developments in Las Vegas, Manhattan, Detroit and Chicago.

Valued at $2.5 billion, the Las Vegas project has 14 acres for Paradise Road and Desert Inn, across from the Wynn Hotel and Golf Course. He says it is the most desirable location for hotel and condominium development in Vegas.

The five-star resort will have a world-class spa, two five-star restaurants, 800 hotel rooms and 100 residential condominiums. Phase One is projected to be completed by 2010.

Peebles, his wife, Katrina and their children, Donahue III (13) and Chloe (4) are spending their first summer in Bridgehampton, New York, at their Versailles-styled home, where he is starting a second book.
divajc47@yahoo.com This e-mail address is being protected from spam bots, you need JavaScript enabled to view it

Pictured above is R. Donahue Peebles, who says anyone can be successful in business.
Last Updated ( Friday, 20 July 2007 )
A conversation with B. B. King and Al Green
BY JOAN CARTWRIGHT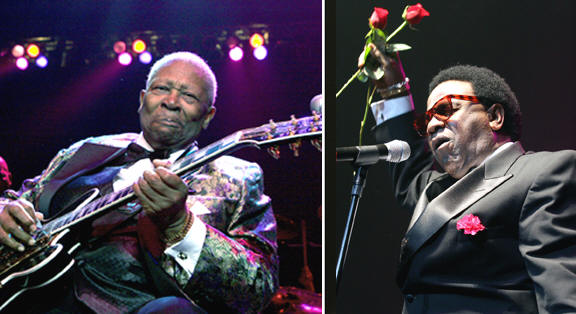 At 81, Riley B. King is the most notable entertainer on Earth, defining blues worldwide, with more than 50 classic albums.

From a plantation in Itta Bena, Miss., King played in four towns a night, for dimes, until moving to Memphis, where important Southern musicians grooved with all styles of African-American music. King learned the art of blues from his cousin Bukka White, a celebrated blues performer. Hours before kicking off the B.B. King Blues Festival at the Seminole Hard Rock Hotel & Casino near Hollywood on July 24, King and the Rev. Al Green said during an interview with reporters that they believe everybody loves to be in love. And that's the key to their success, they said.
King said he dislikes lyrics that degrade women in today's music. He says ladies are the greatest gift from God.

The first woman to impress King, musically, was Bessie Smith, King said. He found that "soul feeling that makes me pat my foot" in Aretha Franklin, Whitney Houston and Etta James, he said.
Green joked that the first woman to really impress King was Lucille, his guitar, and they both laughed about that.

"B.B. is the King! He's been doing this longer than I've been alive," says Green.

For King, Green's songs are "truth and when he performs, nobody does it better."
Green's hits from 1972 forward are nostalgic. But we love the oldies that we fell in love to: Let's Get Married, Let's Stay Together and For The Good Times.

Green bridges church and blues, which back in the day was considered "devil music" by many.
King echoed a similar theme. His ambition as a young man growing up was to be a pastor in the sanctified church. When he played gospel on the corner, however, people praised him, but they put no money into his hat. When he played the blues, though, the money he got supplemented what he made picking cotton on his knees in Mississippi, he said.

He said he is hurt that blues people are segregated from church people. He attends church and likes touring with Green. There's no reason for the blues to be demonized, he said.
"All music is about love," he said. "The Great One gave us talent to please, amuse and show that we care for one another."

Back during the days of segregation, King said, he would cross the tracks to sneak a drink from the whites only fountain and, "It tasted just like the water in the colored fountain."

He doesn't discriminate between black and white. Music is about love and everybody is affected by it. His fans are from all races and walks of life. To succeed, he says, "Do what you like to do and do it well."

King said he is not that old, considering that Brahms and Beethoven's music from the fourteenth and fifteenth centuries is still around. He loves performing and the late Pope John didn't tell him when he would "check out," he said, so he'll do it until it's time for him to go.

Twice a year, he performs in the six B.B. King Clubs.

"They're not mine, but they carry my name. I expect the best from them and the owners have kept their word."

King listens to young musicians like Willie Mitchell, Joe Louis Walker, Kenny Wayne Shepherd and the late Stevie Ray Vaughan.

In the U.S. and out, he says, "I hardly hear blues on the radio."

So, he doesn't listen to much radio.

"I prefer CDs and watching the History Channel on television because I didn't get a good education and I like learning."

During the concert, after Chaka Khan's opening with I'm Every Woman and her other great songs, Green brought down the house with his emotionally charged voice.

In great form, he revisited his and other standards in the American Song Book, like Take You In My Arms and Wipe All Your Tears Away, featuring guitarist Clarence Mitchell and background singers Velisa
Brewster and his daughter, Debrah Green, who mentioned that her father is in the Soul Hall of Fame and is a 9-time Grammy winner with sales of over 150 million records.

Al Green invoked Sam Cooke on Bring It On Home To Me and Otis Redding in Dock Of The Bay.
The band played Tired of Being Alone, Let's Stay Together, I Can't Get Next to You, I'm Still in Love With
You, Call Me, and Here I Am, ending with Love and Happiness.

Green declared, Everything's OK, the title of his new album on Blue Note Records, featuring guitarist Willie Mitchell.

King's veteran band came on with a hefty dose of blues on organ, guitar, flute and horns. B.B. followed with a song, I Need You So, amplifying his gratitude to fans.

During the concert, he said, "Growing up, life was good because I didn't know nothing outside the 8 or 9 miles around the farm. I went to town on Saturday night, the only time I saw electric lights in houses. I stood at a furniture store window, looking at a television wondering where the man was who was talking. My cousin said, 'on TV, fool!'"

He said there was the railroad with "us over there and ya'll over here."

He thanked the people of Mississippi and God, and thinks the world is so beautiful, he said.

He loves to laugh and his song sums it up, "I'm a poor man. I'm a good man. Understand."

divajc47@yahoo.com This e-mail address is being protected from spam bots, you need JavaScript enabled to view it

Photos by Sayre Berman

Pictured above, B.B. King, left, and Al Green, right, perform at the Hard Rock Cafe Live Arena.

Last Updated ( Friday, 27 July 2007 )
Photos of Joan Cartwright with B. B. King
Mary J. Blige rocks the house and uplifts the spirit
BY JOAN CARTWRIGHT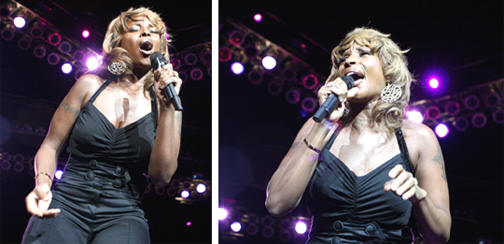 "Look into my light. See what I see," says Mary J. Blige, who knows, after more than 15 years as a recording artist, that she's going to be around for a very long time.
During her July 19 concert at the Seminole Hard Rock Hotel & Casino near Hollywood, comments from concert goers ranged from "fantastic" to "high energy" regarding Mary's testimonial that she's risen above her struggles with who she really is and what she really deserves.

People of all ages, particularly women, sang the lyrics of Real Love, You Remind Me, I'm Going Down and You Know How I Feel.

Mary sings her songs of triumph deep from within. The women and men were on their feet for Just Take Me as I Am.

Mary chants, she preaches, she screams to the heights for No More Pain and the audience knows exactly what she means. They echo her prayer. They know her. They hail her as the Queen of Women who will not be scorned, beaten down, judged or ignored. "Those of you with an opinion," she says, "do not count. It's my opinion about me that counts!"

A star for 15 years, Mary – at age 36 – is considered "Old School" by women in their twenties like Janice who sat next to me at her very first concert.

But the music, which Jamar Williams believes is "like good cake because everyone wants a piece of it," is very present.

The venue left something to be desired as far as acoustics, but Mary's message was clear, You Can't
Hold a Good Woman Down. Some said her band was too loud. It's true, you couldn't hear all the words, but you didn't need to because the fans sang the songs word for word.

Mary has lasted through the test of time. P. Diddy, the artist formerly known as Puffy, is her producer. Together, they've amassed a fortune with hit after hit. According to critics, she may sound better in the studio, but Mary enjoys being onstage.

The three-time Grammy winner loves her audience and is grateful to them for keeping her on top of the charts.

Wanda Stanton from New Jersey said she knew Mary when she was a hip hopper using language that we're trying to get young people to stop using. Stanton said Mary has "turned her life around. Now, I see her as a mature woman. This was one helluva concert!"

"Fantastic!" declared Attorney Karen Black who said that Mary's show had energy and the music kept flowing as a testimony to her life. Black's law partner, Bobo Brown, said the concert needed to be longer because, "at the end of the day, there was a good message of triumph over physical violence and the need to be true to you."

[On the February 1, 2006 episode of The Oprah Winfrey Show, Mary J. revealed that she was sexually assaulted at age five.]

At the concert, Mary covered songs making them her own like You Are Everything by the Chi-lites and One by U2 that put her in the category of Patti Labelle who recorded On My Own with Michael McDonald and Tina Turner, who sang duos with David Bowie and Mick Jagger.

Mary's passion, enthusiasm and beauty mirrors Patti and Tina, speaking to the power of black women to take the world to the next level. As she grows, her songs are bound to be lighter in nature and more fun.
Her band is funky, melodic and reminiscent of Prince. The background singers are harmonious and their choreography is right on time, making it evident that this group is cohesive, working like a well-oiled machine.

The backdrop of lights, clouds, fire and images complement Mary's message and set the tone for spiritual lifting.

"I want to be happy," Mary insists.

From verse to verse, she keeps that message coming. She dispels the past, when she may not have considered being happy and whole. Her transformation is the agent for healing others. To her fans, she says, "you were there when I was going through hell and we healed together."

Mary knows there'll be "no more tears. No more pain. No more drama!" Over and over, she repeats this in an operatic manner. But there is drama, triumphant drama that's good for the soul of those listening to what this Diva is saying.

She vocalizes, she kneels, she chants, she prays. She is a priestess calling for angels to come down from heaven and release us humans from life's suffering. Mary's music is transforming. She may have emerged as a Ghetto Princess, but she's evolved into a goddess whose followers believe she can free them from the drone of mundane existence.

They believe it and, after one evening of Mary J. Blige, so will you.

Divajc47@yahoo.com This e-mail address is being protected from spam bots, you need JavaScript enabled to view it

Pictured above is Triple Grammy Award winner Mary J. Blige performs at the Seminole Hard Rock Hotel & Casino near Hollywood on July 19. photo by Sayre Berman
Last Updated ( Friday, 27 July 2007 )
CONCERT REVIEW: Macy Gray kicks off 20-city tour at the Hard Rock
BY JOAN CARTWRIGHT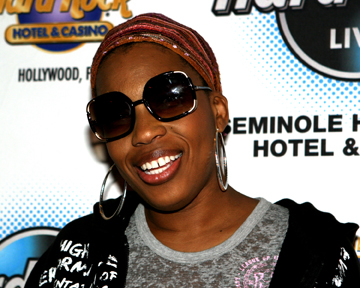 The innocent voice throws you off. Macy Gray's stature is overshadowing, hardly innocent. She sounds like a little girl when she speaks, but her new CD, Big, is all grown up.

Opening with the Brand New Heavies, Gray's 20-city tour began Aug. 14 at the Seminole Hard Rock Hotel & Casino near Hollywood. The New Heavies have resurfaced after four years off the road. Their show is non-stop funk that makes you get up and shake your booty!

This band made me think of Sly and The Family Stone and Parliament Funkadelic without the Mothership. They sing We've Got [What You Need], [Bring Back The Funky Music] Right On, and their new CD on Delicious Vinyl states exactly what they mean – Get Used To It!

Sleek lead singer N'Dea is originally from Atlanta, but has lived in London and other parts of Europe for years. She's seasoned and fresh at the same time! The band smokes around her and she never stops dancing. From one tune to the next, this is a well-spent hour listening to the Brand New Heavies with drummer Jan Kincaid, bassist Andrew Love Levy and Simon Bartholomew on lead guitar. The band also features a trumpet and saxophone.

The audience waited with anticipation for Macy to grace the stage. Her entrance was diva-like and – from beginning to end – the music never stopped making you want to hear her sing another song and another, until she gets to I Try!

Innocent? Nope! Macy declares that her lover Finally Made Me Happy when he walked out the door (instead of in, like we ladies usually proclaim).

When the vicious background singers – one extremely voluptuous and the other small but very sexy – shout, "Macy don't love you no more!" you know she is strong-willed and about to take no stuff. Macy ain't innocent and Macy ain't havin' it. You mess up, you're out the door.

Macy's band is on point. The lady on keyboards plays and sings along with the bass and lead guitarist. One synthesizer is a young man whom Macy calls "The Master!" The drummer's beats are simple, but effective for the music and the fun they produce.

It's the two background singers who make the show happen. Macy says, "Listen to my babies sing" and you know who she's talking about, because these two sisters can 'sang'!

As rambunctious as they are, that's how mellow Macy is. The contrast is delightful and you know they're part of an ensemble, yet it seems like there are multiple acts going on, simultaneously.

Macy is the M.C. in the Center Ring and there's a circus quality as the players and singers dance and prance around the stage like show horses. She mounts the drummers' stands (it looks like there are two) and her long legs straddle the opening between the two stands. Macy is in a red tailored suit that will not stop!

That's what is new about Macy. She has a clothing line. She says she makes most of the outfits she wears onstage and, now, she's unveiling the Natalie Hinds line by Macy Gray (Natalie Renee McIntyre was the name given to Macy at birth).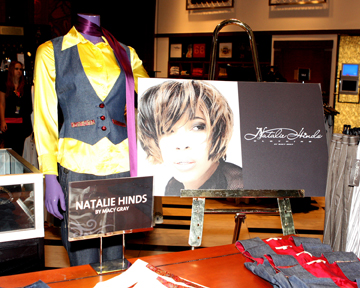 The clothing line consists of classic jeans, shirts and vests for which she chooses the fabric and tastily designs. The vintage vest has mock pockets, hot pink sparkly buttons and a paisley back. She's got shiny shirts in bright yellow satin with long sleeves and spaghetti strapped flimsy fuschia tops over grey jeans with shiny, silver buttons.

Simplicity, style and color best describe Macy's designs. She adds them to her portfolio of talent topped by songwriting, singing and acting.

Appearances in Idlewild and Lackawanna Blues sealed the success of this character actor who is at the beginning of a career bound to reveal a renaissance woman who may still have a little time left to grow up. She's tall but shy except when she takes over the stage.

In North Hollywood, California, Macy founded a music academy with classes in recording techniques, voice and drumming to help exceptional students make it big in the industry.

"Music education is a tool to expose its students to beauty, confidence and self-expression,'' she says. "It serves to cultivate imagination, individuality and excellence. It teaches collaboration and cooperation."

One thing is certain, when she does grow up, the whole world is in for some real surprises because Macy Gray, who will turn 40 on Sept. 6, is already prolific and on her way to being a multi-dimensional entrepreneur.
Pictured at the top of the story is Macy Gray. Pictured in the middle of the story are samples of the Natalie Hinds clothing line.

divajc47@yahoo.com This e-mail address is being protected from spam bots, you need JavaScript enabled to view it
Last Updated ( Friday, 24 August 2007 )