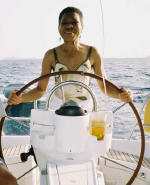 AUDREY PETERMAN
They're pursuing their dream of sailing around the world. First step, becoming certified captains in the Virgin Islands!
I left my heart on a sailboat in the Virgin Islands
We learned to sail in exactly two weeks. I didn't even know how to swim, and had never set foot on a sailboat before. Infected by another of my husband's dreams – the first took us on a 12,000 mile drive that opened the Great American Outdoors to me – I gladly signed up for the Black Boaters Summit Learn to Sail adventure in the Virgin Islands. I didn't know then that I'd fall so passionately in love with this sport that now I want it to become our way of life. In 14 days Frank and me with three other students not only learned to sail, but became certified by the American Sailing Association to skipper a 30-50 foot sailboat, within sight of land in daylight! Never in my 54-years has a transformation of such magnitude occurred in such a short time.
It began with an invitation e-mailed by organizer Capt. Paul Mixon, to the 8th Annual Black Boaters' Summit in the Virgin Islands. The Learn to Sail component encouraged, "No experience required to become a full-fledged captain of a sailing yacht." Since we have this dream of exploring the world on our own sailboat, we figured this was a good place to start.
Having lived my first 28 years in Jamaica, I was unmoved by the allure of the Virgin Islands. After all, my homeland has the reputation of being the most beautiful island. So I was completely taken aback by the stunning beauty and rich diversity of people and places in the US and British Virgin Islands. Arriving in St. Thomas, US VI, I was floored by the profusion of flaming Royal Poinciana (also known as flamboyant) on the green hillsides. I quickly found that ferries are the mass transportation system of these islands, and a 45-minute ride deposited me in Tortola, one of the British Virgin Islands, where I boarded a taxi to my hotel. I expected maybe a 5 minute ride, and instead found myself on a wild adventure, roaring along a road that took us straight up one mountain, prolific with greenery and color and down the other side, each side revealing an entirely new vista of ocean and settlement. The driver told me he spent more than 30 years in America and finally returned home to paradise. In the 20-minute ride, he gave me a condensed history of the British Virgin Islands. Arriving at Carrie's Comfort Inn in Cane Garden Bay ($55, no credit cards, for a room overlooking the bay!) we found our hostess Cassandra barefoot in the garden, leisurely cracking almonds from her tree. Wow!!
At dinner that night at the famous Myett's Restaurant/Bar/Nightclub, I met our Captain, Alan Johnson, a Salty Seadog who joked that he'd been sailing so long, he felt like a cabin boy to Columbus. The first crewmember I met, Shelly Urquhart, hardly fit the profile of the "Black Boaters Summit," being a white woman from California. We instantly became best friends. Our waitress was Jamaican, and finding that Frank was able to overcome a 3-hour flight delay by chartering a ferry (with six others) to Tortola, she had half of a 5-pound lobster (the smallest remaining) and the perfect martini waiting for him when he arrived at 11 o'clock. In this egalitarian paradise, I spotted my taxi driver having a meal with a large group of family and friends.
Our sailing adventure began next morning when the Sandman, co-owner of Myett's, picked us up from various hotels and drove us to the Moorings. Stepping aboard our 40-foot Beneteau for the first time, we found to our elation that one crewmember, Dru Stafford, was a friend of Frank's from way back in college. They had not seen each other in more than 40 years. Dru, who now lives on St. Thomas, had taken on the responsibility of provisioning our boat, so we had loads of salmon, steaks, chicken and looked forward to eating good! Her friend of almost 50 years, Dr. Carolyn Mohr, made up the sixth member of our crew.
To my amazement, immediately after we left the harbor, Captain Alan put us at the helm! I had expected maybe hours of classroom instruction, not this! Shelly, Dru and Frank each had some sailing experience and were very comfortable on the boat. Not to be outdone, I figured if they could do it, I could too! I was also inspired by my 21-year-old niece, Jonelle, who at 5' 4" and fattened up to the requisite 117 pounds, had just graduated Marine boot camp, reputed to be the toughest in the military. My first time at the helm, I was as nervous as I had ever been in my life. But after a few minutes I relaxed into it and found it not much different from driving a car, minus highway lanes and traffic. Just as I'd found my groove, we reached the Bitter End, absolutely the most gorgeous place I have ever seen. The world famous Bitter End Yatch Club, which I had never heard about, crowns the North Sound, a serene body of water sheltered by mountains on three sides. The resort conforms to the natural area, even the most luxurious units appearing as thatched-hut rooftops above the flaming poinciana trees.
Here in North Sound, we would learn to sail on a 21-foot Hunter sailboat, with no engine, so that we could really learn the action of the wind on the sails and the boat. Oy! My orange life vest became my constant companion. Steering with the tiller, which requires you to steer the opposite direction from where you want to go, was very challenging. It wasn't until my friend Shelly took me out on the dinghy to practice and showed me a new way of thinking about it that it came easier. Our training included being able to rescue someone who'd fallen overboard. Suffice it to say that I got this procedure wrong so many times, steering the boat away from the "victim," (a life-jacket we threw overboard) just before I thought the boat would hit it, that finally, Captain Alan finally said, "Audrey, I don't do this for everyone, but," and, taking off his watch, jumped overboard!!!!!! That lent a certain urgency to the situation, and after I "rescued" him, we headed back to the Beneteau where I had I had a well-deserved stiff rum and coke.
At the end of our first week we had completed training and passed the test for Basic Keel Boat sailing; made fast friends from being, literally, in the same boat, with three cabins and one head (toilet) on which we could only do Number 1 because the BVI does not require boats to have holding tanks. When Captain Alan left us at the moorings that Saturday, we felt like we were taking leave of an old friend. We picked up a bigger boat, a 49.5 foot Beneteau this time, our new Captain, Joan Gilmore and her friend, Adam, and a new student, Denise Alston who had already completed her Basic Keel Boating at a sailing club in Annapolis. Md. The next week involved a round of sailing practice which took us island hopping, virtually waking up off a different coast every morning, from Tortola to Virgin Gorda, Jos Van Dyke and Norman's Island. We barbecued on the grill off the starboard side, visiting local towns where we found a rich infusion of people from all over the Caribbean – the Executive Chef at the Bitter End, Trevor Nicely, is the son of Jamaican parents, born in London; our taxi driver in Spanish Town was Jamaican, his wife Dominican, and everywhere in the islands we met people from Haiti, Trinidad, Barbados and St. Vincent. We enjoyed a constant round of parties with the other 100-plus members of the BBS, many of whom are committed sailors, including Capt. Bill Pinkney, Master of the Freedom Schooner Amistad, the first black man to circumnavigate the globe.
By Friday we had all succeeded in passing our practical exams and written tests and voila! We are Captains! Standing on the bow of the Sea'Duction as we came into port, I could hardly believe that two weeks earlier, you couldn't have offered me enough money to go up there. And yet, here I was, very much at home!
The last two days of the BBS were spent on St. John, where almost 75 percent of the island comprises The Virgin Island National Park, part of the US National Park System. We went looking for our friend, Supt. Art Frederick, formerly Superintendent at Cumberland Island National Seashore in Georgia, but found staff grieving at the murder of a colleague, and Supt. Frederick off to the funeral. The Westin Resort was headquarters for the BBS, and at yet another party, we got to meet folks from all over the country who make this annual pilgrimage to the BBS to sail, to party and enjoy the ultimate getaway!
In case you don't suspect this yet, Frank and I plan to skipper a boat at the BBS next year and rejoin all our old/new friends. Come!!