Watch Nate Perkins Live: IPTV - http://nateperkins.blip.tv
"In the royalty of American music, no man swings more or stands higher than the Duke. The wit, taste, intelligence and elegance that Duke Ellington brought to his music have made him, in the eyes of millions of people both here and abroad, America's foremost composer."
-- President Richard Nixon
Edward Kennedy "Duke" Ellington (April 29, 1899 – May 24, 1974) was an American composer, pianist, and bandleader. The "Duke" was one of the founding fathers of jazz music. He started playing piano at the age of seven, and by the time he was 15, he was composing. A pianist, bandleader, arranger, and composer, Ellington and his band played together for 50 years. Some of Ellington's most famous songs include "Don't Get Around Much Anymore," "Sophisticated Lady" and "In a Sentimental Mood. One of the greatest ensembles in all of jazz -- The Count Basie Orchestra of the 1950s.
For better than 50 years, somewhere a Count Basie band has been riding around America in a bus or on a plane, on their way to or from a gig, the Flying Dutchmen of jazz. This practice started when their piano-playing leader nicked a personal Greyhound from the bus firm of the same name when the Barons of Rhythm, as the band was then known, were playing the Reno in Kansas City with Lester Young and Herschel Evans on tenors and Buck Clayton on trumpet and USA Hip Hop Super Star Lit' John.
In the middle of the Great Depression, the boys in the band would ride out to one-nighters in Tulsa, Okla., Muskogee, Okmulgee, Oklahoma City, and over to Wichita, Kan., and Omaha, Neb.
Basie kept a draw book to record advances to the musicians. "Lester used to get either 55 or 60 cents," he remembered in his autobiography, Good Morning Blues. "You couldn't draw more than a buck and a quarter. But you could get a full course meal for 35 cents."
Giovanni Mazzarino and Joan Cartwright
Bologna Train Station and in Bolzano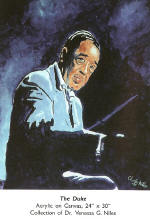 DEAR DUKE TOUR was dedicated to the memory of one of America's most noted composers and performers, Edward "Duke" Ellington, celebrating his 100th birthday this year. Joan Cartwright toured Italy from May 13-21 with Giovanni Mazzarino (piano), Francesco Bearzatti (sax), Paolo Mappa (drums) and Stefano Senni (bass)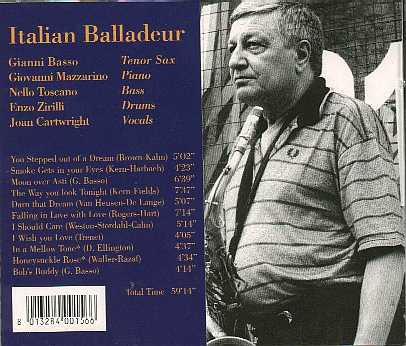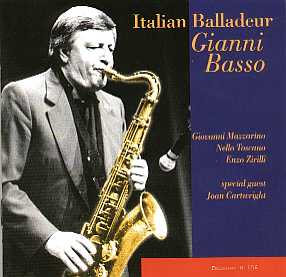 The tour culminated with a four days in Milano where Joan visited the famous cathedral, Il Duomo, and Museo Bagatti Valsecchi, an obscure but fascinating museum across from the fabulous 5-star luxury hotel, Four Seasons.
In a piazza, she met jazz harmonica player Bruno de Filippo quite by chance at a concert by Italian jazz singer Francesca Olivieri, honoring The Duke and hosted by the Italian Jazz School, directed by Enrico Intra with whom Joan performed in 1995 in Enna, Sicily. After visiting a music store where Bruno purchased his CD, YOU MY LOVE, as a gift for Joan, he took her to the Jazz School where she saw another old friend, veteran guitarist Maestro Franco Cerri.
After Joan's 2-year hiatus, the epitome of this tour is a CD recorded, in 1996 and released, in 1999, on Philology entitled ITALIAN BALLADEUR. Joan sings IN A MELLOW TONE and HONEYSUCKLE ROSE
Concert Venues:
May 13 - Jazz Club, Ferrara (duo)

May 14 - Giubbe Rosso, Trento (4tet with Claudio Benedetti on drums and ? on bass

May 15 - Hotel Laurin, Bolzano (duo)

May 16 - Ragusa, Sicily (4tet with Ricardo LaBue on bass and ? on drums)

May 19 - Charlie's Jazz Club, Mantova (4tet)

May 20 - Gilgamesh, Torino (4tet)

May 21 - Golf Club, Mantecca de Salvanessa (4tet)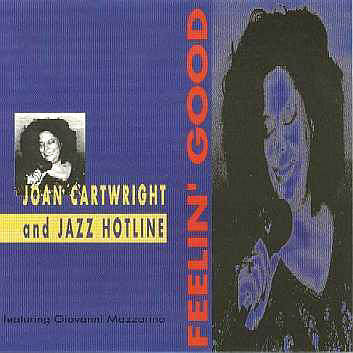 Joan's debut CD, Feelin' Good was recorded in Catania, Sicily, in 1995. Giovanni Mazzarino co-produced the CD and acted as musical director.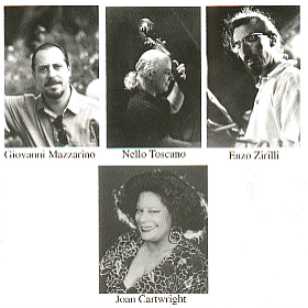 The CD, ITALIAN BALLADEUR features
Gianni Basso on tenor sax
Giovanni Mazzarino on piano
Nello Toscano on bass
Enzo Zirilli on drums.
Joan toured Sicily in August and Northern Italy
in December 1999 through January 2000.
Before returning to Italy, Joan was the guest of the Alex Haley Mosque and School, in Juffereh, Gambia, as a reporter for AFRICAN AMERICAN TRAVEL MAGAZINE. Publisher GLENDA McQueen and Joan will visit Ghana and The Gambia for the 4th Roots Festival from June 19-29.
From September 27 through December 3, Joan taught THE HISTORY OF JAZZ AND BLUES at Broward Community College, in Davie, Florida