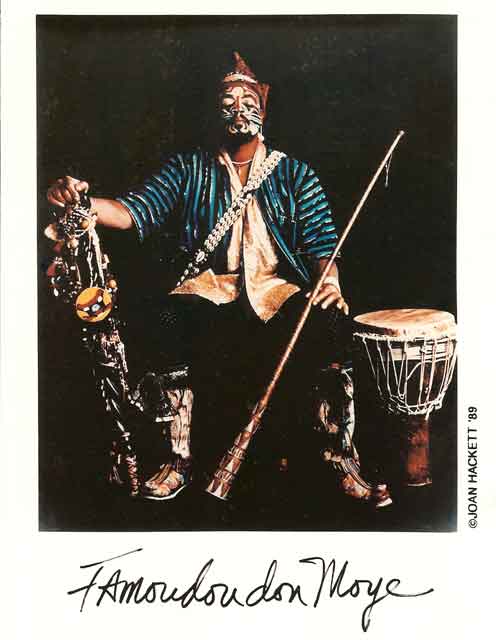 Famoudou Don Moye is one of the most sought-after percussionists of our time. He is recognized throughout the world for his artistic standards and his brilliant musical abilities. With more than three decades of critical acclaim for his musical achievements and exceptional technique, Moye also is equally respected as a inspiring teacher, ensemble player, and exponent of African music.
As founding member and leader of the Sun Percussion Summit, a group dedicated to the development and traditions of African percussion music, Moye has recorded and performed internationally. His concerts have won praise for "clarity, stylistic breadth, rhythmic complexity and musical erudition. By evoking the sound of Ancient Africa, nascent New Orleans jazz, vintage be-bop, post-60's avant-garde and other musical languages, Moye's Sun Percussion Summit shed light on the entire history of jazz, as well as music that pre-dated it...To hear so many crisply articulated ideas fired off and developed at once, to hear a single performer breaking out of the ensemble for an expansive solo was to witness anew the West African origins of the jazz tradition."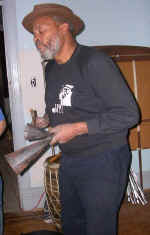 Born in New York, Moye comes for a family of musicians. During high school, he began playing the drums as well as the congas and bongos. In 1968, Moye left the United States and went to Europe with the Detroit Free Jazz Band. Playing all over Europe, he eventually settled in Rome and worked at RAI (Italian Radio and Television). During a visit to Tangiers in 1969, Moye met one of his major influences, Randy Weston, and worked extensively with Moroccan musicians. Moving to Paris later, Moye met and studied with yet another major influence, Art Taylor. By 1972, Moye had moved to Chicago and was permanent drummer with The Art Ensemble of Chicago (AEC), since December 1969.
Beyond his work with the Sun Percussion Summit and The Art Ensemble of Chicago, Moye regularly performed and recorded with Lester Bowie's Brass Fantasy, The Leaders, and The Kirk Lightsey Trio, among others. With these groups, Moye has garnered numerous accolades and amassed a prolific and extensive discography numbering more than 120 recordings, including awards for Record of the Year from Down Beat Critics Poll, Jazz Album of the Year from Melody Maker, Record of the Year from Stereo Review, Grand Prix Diamant du Festival Montreux. His work on ECM Records has earned critical praise from Rolling Stone, The New York Times, and Audio magazine.
Moye has collaborated with musical giants including greats such as Don Pullen, Von Freeman, Randy Weston, Steve Lacy, Marcello Melis, Oliver Lake, Billy Cobham, Roy Haynes, Sun Ra, Fontella Bass, Jay haggard, Dave Burrell, Arthur Blythe, Chico Freeman, Hamiet Bluiett, Cecil McBee, Gene Ammons, David Murray, Pharaoh Sanders, Juma Santos, Mor Thiam, Johnny Board, Muhal Richard Abrams, and Henry Threadgill.
In his ongoing position as co-founder and artistic director of the Art Ensemble of Chicago Education Foundation, Moye remains committed to the development of young musicians. "Through the discipline of music, I hope to develop myself to the highest level as a human being, to bring to the public a greater awareness of the value and role of Great Black Music as a universal art form and a vehicle of peace, and to create a legacy for future generations of musicians." His workshops at conservatories and colleges have attracted students from the University of Michigan, Malcolm X College, Yale University, the Australian Jazz Federation, Wolliaston Dance Studio (Paris), Antioch College, Northeastern University, The Norwegian Jazz Federation, Notre Dame University, Governors State University, Howard University, Vanderbilt University, the Jamaican School of Music, Williams College, the New Mexico Jazz Federation, the Pomigliano Jazz Federation, and the Association Jazz Punta Giara. This fall 2005 Moye travels to Germany, Portugal, Spain, Italy, and France for a series of concerts and workshops.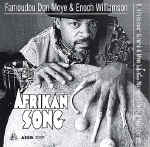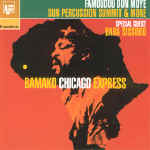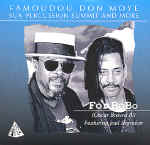 http://aacmchicago.org/members/Moye.html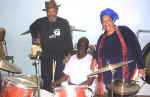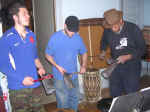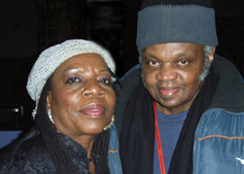 Amina Claudine Myers & Henry Grimes, NYC, '07,
photo by Jamie Anderson