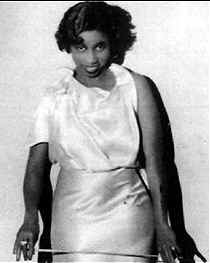 Born in Memphis, TN, on February 3, 1898, Lil Harden Armstrong will always be best known for her influence in shaping Louis Armstrong's career (persuading him to leave King Oliver's band and accept Fletcher Henderson's offer in New York) and for her work with Louis' Hot Five and Seven, but she actually had an interesting career after she parted with Armstrong.
She worked in Chicago demonstrating new songs at a music store. She worked with Sugar Johnny's Creole Orchestra and then Freddie Keppard's Original Creole Orchestra before becoming a member of King Oliver's Creole Jazz Band. Lil Armstrong's rhythmic piano helped keep the ensembles solid and she made her recording debut with Oliver in 1923.
She met Louis Armstrong while in the band and their marriage lasted from 1924-1938, although they separated in 1931. Lil played piano and occasionally sang on Louis' famous Hot Five and Seven recordings, and she composed "Struttin' With Some Barbeque." During the latter half of the 1930s she was house pianist at Decca, recording 26 titles as a leader (mostly as a vocalist) during 1936-1940, including her "Just For a Thrill."
Although she rarely recorded during the remainder of her career (12 titles during 1945-1947, six songs in 1953-1954, two selections in 1959, and an album in 1961), Lil Armstrong remained active during her last 30 years in Chicago. She recorded a talking record in 1959 on which she reminisced about her days with Louis Armstrong, and ironically she died of a heart attack while playing "St. Louis Blues" at an Armstrong tribute concert less than two months after Louis himself had passed away. ~ Scott Yanow, All Music Guide
Lil died on August 27, 1971 in Chicago, seven weeks after the death of Louis Armstrong, who died on July 6, 1971.