1. The Sign of the Blues - Copyright 1993 Joan Cartwright, M.A.
This paper takes the Marxist theory that "all art is a direct result of social conditioning" and applies it to the Blues. The paper traces the roots of the blues from the shores of West Africa to Jamestown, Virginia, where hopeless slaves cried out for freedom through music born of syncopated African rhythms, call and response, European sacred hymns and field hollers, the elements of the only legitimate communication allowed slaves. In the course of history, these elements led to a code used by the Underground Railroad, "devil music" commonly known as the blues, gospel music or Negro Spirituals, and the contemporary forms of American music, namely, jazz, rock & roll and rhythm & blues (R&B). The pioneers of these musical media are discussed, as well as the impact of American music on the international music scene with emphasis on European appreciation of American Blues and Jazz.
2. Jazz: The Unmasked Rhetoric - Copyright 1993 Joan Cartwright, M.A.
"Jazz sounds around the world as the gilded voice of those who have risen from the dust of bondage to take hold of the reins of the chariot moving toward universal emancipation." - JC
This lecture traces the course of jazz music from its West African roots through slavery, the unfoldment of gospel music, the subsequent evolution of the blues and minstrelsy, as the masked rhetoric of African Americans who dared not say to the faces of racists whites what their songs could say. Behind the doors of the jazz clubs in American and Europe, African American musicians finally removed the mask of deception worn by their musical forbearers who sang spirituals, moaned the blues and painted their faces white to participate in minstrel shows for the entertainment of white supremacists. The African American musicians of the twentieth century, including John Coltrane, Thelonious Monk, Nina Simone, Roberta Flack, Les McCann, Archie Shepp, Cecil Taylor, Sonny Rollins, Abbey Lincoln, Max Roach, Charles Mingus, Betty Carter and many more, used jazz music to condemn the racist society which enjoyed not only great pleasure from the music but great commercial success from the publication and promotion of Negro spirituals, blues, minstrelsy and jazz music.
3. THE CULTURAL POLITICS OF COMMERCIAL JAZZ
Copyright 1994 Joan Cartwright, M.A.
This thesis examines jazz music, first, as a language developed by African Americans to communicate their desire for personal freedom and community, then, as a commodity exploited by the commercial music industry dominated by European Americans. Ownership and the ideology of critics are specific problems of cultural politics that hinder African American innovators from attaining the commercial success enjoyed by white imitators, producers and critics.
Because real jazz is the creation of African American musicians struggling to have a voice in society, it is critically denounced and underexposed, lauded and rewarded far less than commercial jazz, its diluted counterpart designed for mass consumption rather than for nationalistic expression. European Americans largely determine the commercial fortunes of jazz because they control the entertainment industry that consists of publishing, recording, literature, radio, television and film.
SO, YOU WANT TO BE A SINGER? by Joan Cartwright
©2008 Joan Cartwright, M.A.
This book concentrates on elements that build confidence and professionalism in singers. It stresses the importance of music studies – the history of those who came before; and theory, including, composition, orchestration and arranging, key signatures, chord structure and melodic progression, range and solfeggio (sight-singing). Songs the repertoire should include standards (covers) and originals. Singers should be clear about complex relationships with musicians and equipment they work with. They should understand scheduling rehearsals: who, where, when, what? They need to know how to prepare set lists from their own book of lead sheets. The importance of looking the part - wardrobe and make-up are addressed, as are the proper photographs, demos and resume they need to get bookings. In today's industry, singers need to understand about studio time, session musicians and material recorded for demos that will be give-aways; and they should know what sales should be about. Most important for serious singers is to understand the nature of gigs, club owners, promoters, friends and fans, agents, managers and recording companies. The paper discusses contracts, publicity, announcements, mailing lists (snail and email), websites, reviews, airplay, press books and promotional packages. Creative fundraising to get all of the necessary materials a singer needs is discussed. Claiming original music performance with ASCAP, BMI or foreign music reporting agencies, and continuing education are highlighted. Finally, the snares and successes of being on the road, nationally and internationally, are emphasized, with a list of contacts for clubs and festivals around the nation and the world.
5. AMAZING MUSICWOMEN

©2008 Joan Cartwright, M.A.
Using historical lecture, songs and PowerPoint images of photographs and artwork, this one-hour presentation chronicles the lives of women who wrote and performed jazz music, including Gertrude "Ma" Rainey, Bessie Smith, Alberta Hunter, Ethel Waters, Lil Harding Armstrong, Mary Lou Williams, Billie Holiday, Ella Fitzgerald, Dinah Washington, Sarah Vaughn, Marian McPartland, Dorothy Donegan, Melba Liston, Abbey Lincoln, Betty Carter, Carmen McRae, Joanne Brackeen, Tania Maria, Toshiko Akiyoshi and others. Concert selections include compositions of Duke Ellington, Fats Waller, Billie Holiday, Cole Porter, Norman Mapp and Joan Cartwright. . . .and much, much more!

Joan's CDs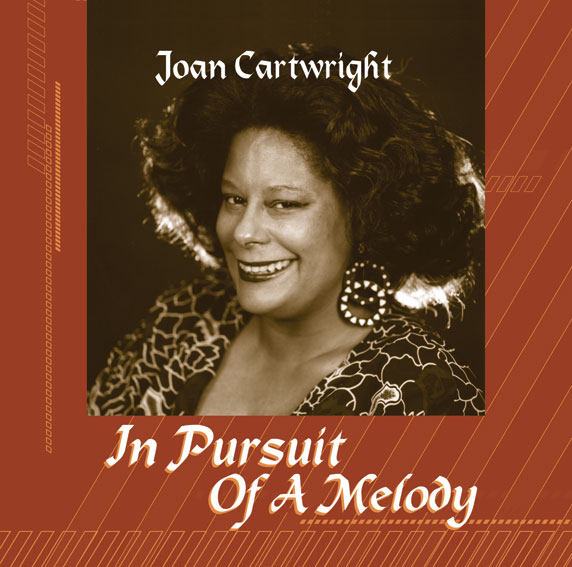 In Pursuit of a Melody 2006 ($10.95)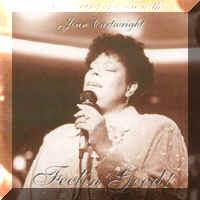 Feelin' Good 1995 ($10.95)
COMING SOON! ! !
WOMEN IN JAZZ -
Vocalist and Jazz Historian
Joan Cartwright
traces the journey of jazz from the West Coast of Africa to the clubs of Harlem. The music highlights the life, times and tunes of America's premiere Blues and
Jazz Women
from Bessie Smith to Mary Lou Williams to Betty Carter to Gloria Lynne and beyond. Selections include compositions by Ellington, Fats Waller, Billie Holiday, Cole Porter and Norman Mapp.