Strange Rumblings at the Center of our Galaxy
By Hector Carreon La Voz de Aztlan

"There are more things in heaven and earth, Horatio, Than are dreamt of in your philosophy."
- Shakespeare in Hamlet -

Los Angeles, Alta California - October 18, 2005 - (ACN) On March of this year, physics professor and astronomer Scott Hyman of Sweet Briar College made a startling announcement. Dr. Hyman and his colleagues wrote in the science journal Nature that they had detected something very extraordinary at the center of our Milky Way Galaxy. While analyzing low frequency radio wave images taken by the Very Large Array telescope at Socorro, New Mexico in 2002, Dr. Hyman and his his fellow researchers detected an intermittent signal that seemed intelligently directed. The signal consisted of five highly energetic radio emissions of equal brightness that lasted 10 minutes each and appeared every 77 minutes over a 7-hour period from September 30 to October 1. The discovery has left Professor Scott Hyman and the entire astronomy community "scratching their heads".

What are these strange rumblings at the center of our Galaxy? Modern day astrophysicists and astronomers, with their sophisticated scientific instruments, are not the only humans that have contemplated this very same question. In fact, the ancient Mayas, the superb astronomers and mathematicians that they were, also mused on what may exist at the center of our Galaxy. The Mayas knew exactly where this center was located in the sky and had a glyph representing it named Hunab Ku by Dr. Jose Arguelles of Princeton University, but known to the Mayas as "The Galactic Butterfly". Much more, their entire cosmology and extremely accurate calendars were based on the existence and location of Hunab Ku and they believed that the future of mankind ultimately depends on what occurs there.

Hunab Ku was, to the Mayas, the supreme God and ultimate Creator. It represented the gateway to other Galaxies beyond our Sun as well as all of the Consciousness that has ever existed in this Galaxy. Hunab Ku, according to the Mayas, is also the Consciousness which organized all matter, from a "whirling disk", into stars, planets and solar systems. Hunab Ku is the "Mother Womb" which is constantly giving birth to new stars and it gave birth to our own Sun and Planet Earth. They also believed that the "Creator" directs everything that happens in our Galaxy from its center through the emanation of periodic "Consciousness Energy" bursts. Today, modern astronomers have verified that at the center of our Galaxy is a "whirling disk" with a "Black Hole" at its center that is both swallowing and giving birth to stars. Could the strange rumblings observed by Dr. Scott Hyman and his associates earlier this year at the center of our Galaxy be connected with what the Mayas believed?

There appears to be a convergence between what the Mayas believed and understood and what modern scientists are discovering about our Galaxy today. One big difference is how modern physicists view and how the ancient Mayas viewed "Time". Today, physicists view Time as being linear. Time according to modern precepts flows in a straight line. Time can slow down, as per Albert Einstein, but it always flows in one direction. In contrast, the Mayas believed essentially that Time flows in a circle. There is a beginning and an end to things but there is a renewal at the end of the Time cycle. There is a "periodicity" to all manifested phenomena. The Mayan highly accurate Long Count Calendar is based on this precept. The Mayas also believed that Time originates out of the Hunab Ku and is controlled by it.

It is very difficult to dismiss the Mayan Cosmology because they left extraordinary evidence that their "Time" keeping methodologies give extremely accurate results. Their pyramids like the one at Chichen-Itza in Mexico are precisely aligned to the the yearly Solstices and the Equinoxes that are caused by the precession of the Earth's axis as it orbits the Sun. The Pyramid of Kukulcan at Chichen-Itza is essentially a superb and highly accurate Time keeping devise that never fails to mark the yearly "Precession of the Equinoxes".

The ancient Mayan astronomers accurately predicted, over 1500 years ago, the exact alignment of the Earth, the Sun, the star cluster Pleiades and of the center of our Galaxy that will take place at the end of the present long cycle on the Gregorian year 2012. On the Mayan Long Calendar the day designated as 4 Ahau 3 Kankin (13.0.0.0.0) falls on December 21, 2012 and this day will mark "El Fin de los Tiempos" or the end of the long cycle at which time humanity will experience a new beginning. On this day, according to the Mayas and subsequent Meso-American civilizations, the return of Kukulcan (Quetzalcoatl) will take place.

On December 21, 2012 which coincides with the Winter Solstice and as the Sun sets west of Chichen-Itza, a pattern of shadow and light will project the Plumed Serpent (Quetzalcoatl) descending on the stairs of the pyramid that has a large head of a serpent sculpted in rock at the base. This occurs twice in Chichen Itza every year but on the Winter Solstice of December 21, 2012 something very special will happen. As the Sun sets in the early afternoon, the shadow of the pyramid's northwest edge will project a moving pattern of light that joins and illuminates the sculpted serpent head at the base of the stairway. Within a thirty-four minute period, the serpent, formed by this play of light and shadow will appear to descend to the earth, as the sun leaves each stair, going from the top to the bottom. This combined effect creates the visual appearance of the body of the serpent descending the pyramid. In addition, on December 21, 2012, the tail of the serpent projected up from the top of the pyramid will be pointing precisely to the star cluster Pleiades. The pyramids at Teotihuacán which means "City of the Gods", constructed by a Meso-American civilization just north of Mexico City that preceded the Mayas, are also aligned to the Pleiades as are the Egyptian pyramids at Giza. This is not all, on December 21, 2012 at around 11:11 universal time, there will be a precise alignment of our Sun with the Galactic center (Hunab Ku).

Exactly what will happen on December 21, 2012 still remains a mystery but it seems that we are receiving stronger and stronger clues. The Mayas certainly placed great significance to this date. It is still 7 years away but our World is already experiencing unprecedented, extreme and rapid changes. The number and magnitude of "natural" catastrophes appear to be increasing exponentially. Scientists have detected extreme and erratic behavior in our Sun that in turn is having strong effects on our Earth's atmosphere and measurable effects on the other planets in our solar system as well. Could the strange rumblings detected by Dr. Scott Hyman at the center of our Galaxy be a cause of the weather and other changes we are experiencing here on Earth today? Will these energetic bursts from Hunab Ku increase in number and intensity as we approach the year 2012? The Mayas would answer "Yes". On December 12, 2012 the Mayas said that mankind will enter and begin a new Era of heightened Consciousness. Perhaps, a colossal emission of a yet unknown form of energy will burst out of our Galactic Center on December 21, 2012 that will change the very physics of our World, a new physics that will last until the next cycle.
Hopi Elders Say Earth Changes Are Upon Us

by Simon Hunt

During the past week, there have been a few events that deserve our attention, thought, and examination.

In an unprecedented and totally unexpected way, Hopi Elders for the first time in history have openly shared their sacred, and heretofore secret prophecies with the world. Robert Ghost Wolf, noted Native American Prophet and author arranged for two Hopi Elders to appear for three hours on the nationally aired Art Bell show (out of Pahrump, NV) and freely discuss their sacred, and heretofore secret prophecies. It has been said by many who have had limited access to the prophecies in the past, that the Hopi prophecies of the coming earth changes are among the most ancient and accurate available. The Elders have come forth at this time because they believe that we have passed the point of no return and major changes are imminent, beginning within the next few months. It is their hope to "soften" the effects by appealing to all to return to a simpler, more spiritual way of life.

Last month at Spiritual Endeavors (and returning again this coming month), noted author, environmentalist, and channeler, Rev. Fred Sterling carried much the same message. Rev. Sterling emphasized that "The Great Shift" has already begun. It is happening now. In other related recent events, Gordon Michael Scallion, Robert Ghost Wolf, and other modern day prophets began predicting major Earth Changes, especially noticeable in the state of California among other places, beginning this summer. And now the Hopi Elders have gone on national radio with the same message.

So, the Earth is changing? The Great Shift is upon us? What is one to do? I offer the following in reply.

First of all, if you are in denial — get over it. Open up your eyes. Take a look around. How's the weather in your neck of the woods? Perhaps, it's a little different than it's ever been for your locality? Try to find out what's really going on. You won't find out by watching Hard Copy, or even the evening news. You'll have to get away from the latest political scandal of who is sleeping with whom and dig just a little deeper to find the things of real importance.

Did you know that tornadoes have been spotted, for the first time in history, that are spinning the wrong way?

Did you know that there are places in Mexico where the ground temperature is heating up in excess of 200 degrees?

Did you know that during a seven-day period in early June, there were 772 earthquakes recorded on the California-Nevada border near Mammoth Lake? (Gordon Michele Scallion and others are predicting a volcanic eruption there this summer.)

Did you know that on May 31st, the jet stream (an extremely fast wind current that flows through the upper atmosphere) touched ground for the first time in recorded history?

Did you know that all over North America, migratory birds have stopped returning to their nesting grounds? And that salmon are no longer returning to their spawning grounds? And indigenous tribes throughout the world have stopped having children?

Okay, so much for denial. Once you accept that change is happening, LET GO OF FEAR. Realize that it is a time of change and not necessarily a time of fear. Fear clouds good judgment and put heavy blocks between the inner intuition, which will be so important during this time, and your conscious mind. The earth changing will not kill you; it changes all the time! But fear, denial, and not being open to your Inner Self and your intuition may.

Once accepted, and FEAR IS NOT AN ISSUE, investigate. Learn all you can about what is happening. The Internet can be an invaluable tool here. For the price of a VCR you can now interact with the world on intimate terms from your living room or office. Through the Internet, you'll be able to discover what you'll never hear on the six o'clock news. You will no longer be at the mercy of news programs governed and determined by entertainment ratings.

If your means can't afford Internet access, they can surely afford the radio. But you'll have to twist that dial off the music stations. Talk radio is a good place to begin. George Noory's Coast To Coast A.M. originates locally and is broadcast nationally. Guests as well as callers will keep you informed of things that you'll never hear on the television. Another locally produced radio program, Patte Purcell's Next Dimension is currently going into national syndication with a similar venue. Turning off the tube and turning on the transistor can open many new paths to information.

And if your means are truly meager, a bus trip to the library will be within your reach. Aside from Internet access, videos, and taped radio programs, libraries have plenty of recent magazines and books.

A word of caution may be helpful when you begin your investigating. When one steps out from under the umbrella of mainstream media and begins to learn what is really happening in the world, there is often the tendency towards anger. "Why hasn't anyone told me this before?" "Why isn't this on the news?" "There's a conspiracy going on to keep us in the dark!" My advise here is to let it pass. Finding out who's responsible and the inner workings of the government or large conglomerate corporations is a tangent that will not only waist time, but probably lead you into deeper anger and fear and further away from love and truth. Instead, take the path advised by the Hopi Elders and offered to the world on June 15 over national radio. Rediscover your spirituality. "If you change now, and change your life around, it will help in the alleviation of much of the terrible outcome from the cataclysms. There is a lot in store for all of us. And the intensity of this will be a lot less if we can all settle down and behave, and not be in the actions that we are right now."

The Hopi Elder went on to explain that it makes no difference whether your spirituality falls in line with an organized philosophy or religion, or if it is something that you have come up with and practice on your own. "Practice your spirituality, whatever it may be, like you have never practiced it before." And realize that your consciousness affects the outcome. Your consciousness effects everything. Realize that your thoughts, words and actions of today contribute to what the world will be like tomorrow.

There you have it. Four easy steps to surviving the earth changes and all the prophecies. Keep your eyes open. Let go of fear.

Learn all you can. Live your spirituality. It all sounds pretty simple. It almost sounds like it could even be fun. And that's a very important point to keep in mind. Fun.

True spirituality is fun. Very big fun. Joy is probably a better word; bliss perhaps even better. If your spiritual path is not leading you on a path of joy, I would suggest that it's perhaps time to start shopping around. I have come to the understanding (and it has taken a lot of sorrow to get here) that experiencing joy is the most spiritual thing that one can do in the course of their day. Joy is infectious. It changes and charges the very air that you walk through. It lightens the hearts of those around you. And in these troubled times I can think of no better healing energy to saturate the Earth with. Joy! Why not take a few moments during each day just to pause and think of something that makes you very happy? Try it.

You'll like it. It might even become a habit.

Well, I guess there's only one more point that need to be addressed here. It's usually the position adopted by most skeptics and those in denial as a justification for their position. "What if the Hopi Elders are wrong?" What if Gordon Michael Scallion, Robert Ghost Wolf, Edgar Cayce, and all those other modern day prophets are wrong? What if the weather changes back to the way it has been in the past? What if the birds, and the fish and babies come back? What if there are no big earth changes? What if absolutely nothing happens at all?

To this I can only reply, "Wouldn't that be nice?" We'd all be able to breathe a collective sigh of relief and joy, take a look around at the Heaven we've created here on Earth, and take great satisfaction in the fact that we didn't have to go through Hell to get there.

Yes indeed, "WOULDN'T THAT BE NICE?"

- Simon Hunt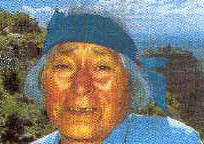 Did you know that on May 31, 2005, the jet stream, an extremely fast wind current that flows through the upper atmosphere, touched ground for the first time in recorded history?

The earth changing will not kill you; it changes all the time! But fear, denial, and not being open to your Inner Self and your intuition may.

MORE LINKS TO HOPI ELDERS




The Haudenosaunee or Iroquois Six Nations Confederacy used when opening their treaty meetings in the following way:

We offer salutations and respect to all present at this meeting

and to all who will be affected by it.
We brush off the chairs on which we sit -- to make a clear space for a meeting of minds.
We brush off from our clothing any debris picked up on the way -- to clear our minds of extraneous matters.
We wipe the blood from our hands -- to acknowledge and apologize for any hurt we have inflicted.
We wipe the tears from our eyes -- to acknowledge and forgive any hurt we have received.
We take the lump out of our throats -- to let go of any sadness or disappointment.
We take the tightness out of our chests -- to let go of any fear or resentment.
We acknowledge and pray for guidance
to the Great Creator Spirit of All Life.
Ho. So be it.
From the Haudenosaunee or Iroquois Six Nations Confederacy who traditionally weighed every decision by its effects on the seventh generation. To adopt such a practice ourselves, we would need to let the future ones figure in our minds.

~~~~~~~~~~~~~~~
Ancient Folk Art
Healing Classes
Reiki - The Usui System of Natural



The Usui System is simple for you to learn. The capacity to use
UNIVERSAL LIFE FORCE ENERGY
for the purpose of healing ourselves and others is conferred by a Reiki Master, through initiation. Through exposure to a qualified and experienced Reiki Master, you will gain inspiration, trust and confidence. If you are interested in
NATURAL HEALING

please visit my website at:
Moorish Institute for Reiki - Healing - Arts and Science

Contact:
Reiki Master Yumnah El @ 954-722-1941


www.fyicomminc.com/spirit/yumnah.htm

~~~~~~~~~~~~~~~~~~~~~~~~~~~~
HAVE YOU PROCLAIMED YOUR NATIONALITY AND REGISTERED WITH THE MOORISH BUREAU OF VITAL STATISTICS?
http:www.moorishnationalrepublic.com
Request Application for Moorish-American Citizenship at: MNRMSTAFlorida@aol.com