Arthur Harper Jr., 65, the fiery jazz bassist who collaborated with pianist and composer Shirley Scott during a career that spanned five decades, died Monday of lung cancer at home in Germantown.

Born in North Carolina, the grandson of a Baptist minister, Mr. Harper was exposed to gospel, hymns, and the culture of music at an early age. He was raised in North Philadelphia, near what is now Ortlieb's Jazzhaus, where he played with drummer Granville "Mickey" Roker, among others.

During his high school years, Mr. Harper played with the Heath Brothers, the Bryant Brothers and trumpeter Lee Morgan.

Roker, who was a classmate of Mr. Harper's at Mastbaum High School, said yesterday: "Arthur was a better musician than me. When we were young, we jammed with bass fiddlers Reggie Workman and Don Moore at each other's houses."

Mr. Harper left high school to play with the Charlie Parker All Stars, vocalist Betty Carter, pianist Bud Powell, and one of the first leading ladies of jazz, pianist Mary Lou Williams, in New York. For 12 years, he was part of J.J. Johnson's world-traveling sextet.

In the 1960s in New York, Mr. Harper and Roker shared an apartment, and they worked with Williams at the Hickory House and with Ray Bryan's Philly trio.

Mr. Harper returned to Philadelphia in the early 1970s and continued to work with jazz legends, including bandleader and bassist Charles Mingus and trumpeter Miles Davis.

It was with Shirley Scott that he made his most enduring contribution to jazz.

He played bass on Scott's Blues Everywhere and with her on Bill Cosby's 1992 television show You Bet Your Life.

"Harper was one of the greatest bass players to come out of Philadelphia," said tenor saxophonist Robert "Bootsie" Barnes yesterday. "He knew every song in any key. He was a joy to play with."

Saxophonist Charles David recalled yesterday: "I called him the last of the upright bassists because he stood erect when he played. Arthur had a personal voice in his music."

Mr. Harper worked until his illness made it impossible to play.

Mr. Harper is survived by his companion of 30 years, Gloria Lewis Ware; four sisters; and one brother.

Friends may visit at 8 a.m. Wednesday at New Hope Temple Baptist Church, 711 S. 12th St. A funeral service will follow at 10. Burial will be private. A musical tribute will be held at 3:30 p.m. at the Clef Club of Jazz, 738 S. Broad St.

Memorial donations may be made to the American Cancer Society, 1626 Locust St., Philadelphia 19103.
More links to Arthur Harper, Jr.
http://www.phillyjazz.org/harper.html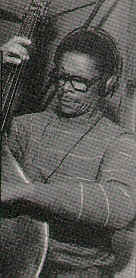 Arthur Harper, Jr.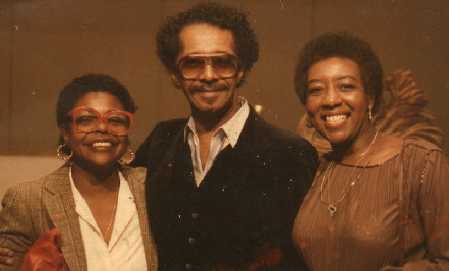 Carolyn McClendon, Philly Joe Jones, Trudi Pitts (1979)
Photo by Joan Cartwright
This page on the website of DIVA JOAN CARTWRIGHT, who performed with Arthur Harper, Jr. in the band of Philly Joe Jones, which also included, organist Shirley Scott and saxophonist Sonny Stitt, (circa 1978).