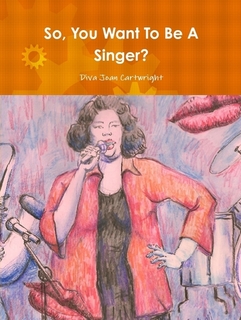 SO, YOU WANT TO BE A SINGER?
Curriculum
Presenter
Joan Cartwright, M.A. is a 30-year veteran of the stage. She is the author of So, You Want To Be A Singer?, a book that outlines the do's and don'ts of being a musician, whether it's an instrumentalist, vocalist or composer.
Course Outline
This presentation is designed for Elementary School I & II, Middle School I & II and High School I & II students, especially those attending Performing Arts Schools.
Ms. Cartwright guides students through the 20 chapters in her book, educating them on the business of the music industry and the materials they will need to be successful in this business.
Method
Workshop: (2 hours per week) Ms. Cartwright asks students to read each chapter and discuss the material in a forum. There is role playing, e.g. agent vs. artist; promoter vs. venue manager, etc. Students are required to pose for photographs and perform and record a song. They learn about rehearsing with musicians, how to get a singing job and how to promote themselves.
The book is required reading and covers the following subjects:
1. MUSIC STUDIES: HISTORY, CHORDS AND LYRICS
2. SONGS: STANDARDS AND ORIGINALS
3. MUSICIANS AND EQUIPMENT
4. REHEARSALS: WHO, WHERE, WHEN, WHAT?
5. SET LISTS AND LEAD SHEETS
6. REPERTOIRE
7. LOOKING THE PART: WARDROBE AND MAKE-UP
8. PHOTOGRAPHS AND RESUMÉ
9. RECORDING: STUDIO TIME AND MATERIAL
10. GIVE-AWAYS AND SALES TIPS
11. GIGS: CLUB OWNERS, PROMOTERS, FRIENDS AND FANS
12. AGENTS, MANAGERS AND RECORDING COMPANIES
13. GET IT IN WRITING! CONTRACTS AND FAXES
14. PUBLICITY - MAILING LISTS: FRIENDS, FANS AND MEDIA
15. ANNOUNCEMENTS, REVIEWS AND AIR PLAY
16. PRESS BOOK AND PROMO PACKAGES
17. CREATIVE FUNDRAISING
18. CLAIMING ORIGINAL MUSIC PERFORMANCE
19. CONTINUING EDUCATION
20. ON THE ROAD TO STARDOM!