Mary Lou Williams - "The First Lady of Jazz"

Mary Lou Williams is the only major Jazz Artist who lived through all the eras in the history and development of Jazz. A pianist, arranger and composer extraordinaire, Williams is credited with arranging and writing for all the well-known big band leaders during the Swing Era including the Andy Kirk and His Twelve Clouds of Joy, Louis Armstrong, Duke Ellington, Tommy

Dorsey, Benny Goodman, Cab Calloway and many others.

Links

WOMEN IN JAZZ SITE CONTENTS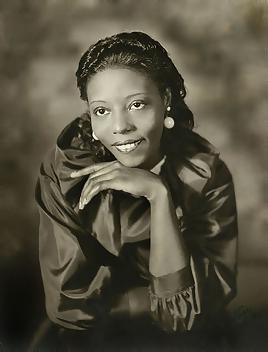 Mary Lou Williams was born Mary Elfrieda Scruggs, on May 8, 1910, in Atlanta, Georgia, and grew up in the East Liberty neighborhood of Pittsburgh, Pennsylvania. As a very young child she taught herself to play the piano and her first public performance was at the age of six. She became a professional musician in her teens and became a jazz pianist, composer, and arranger.
Her professional debut with big bands came at age 12 substituting for a pianist in a vaudeville show and for the next few years she toured and played with such artists as Jelly Roll Morton, Willie "the lion" Smith, Fats Waller and Duke Ellington.

A child prodigy with perfect pitch and a highly developed musical memory, she began playing by age four. By age ten she was known as "The Little Piano Girl," playing at private parties around Pittsburgh where the family moved when she was 6 years old. "Around Pittsburgh, I played for many wealthy families, the Mellons, in particular. I was just a kid. They were wonderful! Theyíd send a chauffeur out for me and Iíd play for their private parties. Once they gave me $100. My mother almost fainted. She wanted to know if the lady drank. She even called the people to see if they had made a mistake."

In the early forties Williams began a long happy engagement at Cafť Society Downtown in New York City. She was playing on and off, more on than off for approximately five years beginning in 1943.
The years between 1941 and 1948 were an intense period of creativity in Jazz and New York was the place to be. Williams arrived on the scene just in time to capitalize on the history making events of that era. It was during this period that Williams came in contact with musicians such as Dizzy Gillespie, Kenny Clarke, Oscar Pettiford, Miles Davis, Tadd Dameron, J.J. Johnson, Kenny Dorham, Charlie Parker, Art Blakey, Bud Powell, and Thelonious Monk, who was in her company daily. Many of these musicians would hold court in Williamsí apartment after hours creating and playing new sounds that would push forth the Bop Era.
Bud Powell and Thelonious Monk would bring their compositions to her to listen to and the musical sessions extended through the night and into the next day and might involve Erroll Garner or Mel Torme or Sarah Vaughan, etc.

In 1964 she founded the Pittsburgh Jazz Festival and served as director for three years. Williams even published her own music through her Cecilia Publishing Company and recorded her own Mary Records label. She was also founder and served as president of the Bel Canto Foundation for needy musicians as well as the general poor and young children and she started the New Reform Foundation for gifted children between the ages of 6 and 12.
Williams died on May 28, 1981.
Mary Lou Williams was the "Mother of Bebop." She was the mentor to Dizzy, Bird, Monk, Bud Powell and Tad Dameron, who gave them the secrets of the flatted 5th and started the bebop revolution. Monk stole a tune from her. "Rhythmning " was a Mary Lou Williams' riff in one of her arrangements for Andy Kirk and Thelonious Monk made a song out of it without even changing it at all. - Nelson Harrison

The Mary Lou Williams Collective
Zodiac Suite: Revisited
Mary Records (M104)
Geri Allen (piano & musical director);
Buster Williams; Billy Hart; Andrew Cyrille. (February 7, 2006)
The Mary Lou Williams Collective, under the musical direction of pianist/arranger/ composer Geri Allen, reexamines and revitalizes Mary Lou Williamsí Zodiac Suite - the first lady of instrumental jazzís landmark 1945 recording of her collection of twelve solo, duo and trio piano pieces named for the astrological signs of the fellow jazz greats to whom they are dedicated - on Zodiac Suite: Revisited. Allen, joined by virtuoso bassist Buster Williams (Mary Lou Williamsí frequent colleague) and drummer Billy Hart (the very creative third member of the younger pianistís working trio from 2003), in the words of producer Father Peter OíBrien, SJ, "explores and explodes the music " preserving the composition, but putting herself entirely into it." In addition to the selections from the suite, the trio also recreates Williamsí exciting collaboration with bassist Milton Suggs, "Intermission." On the dateís other two selections, Herbie Nicholsí "The Bebop Waltz" (a favorite of Mary Louís) and "Thank You Madam" (Allenís dedication to Williams), the great Andrew Cyrille, who had performed often with Williams and appeared on Allenís debut recording, makes a guest appearance on drums.

Zodiac Suite: Revisited begins, as the original does, with "Aries" Williamsí dedication to Ben Webster and Billie Holiday, uniquely talented artists who the composer called "pioneers, people who create sounds and things youíve never heard before." Initially recorded as a piano-bass duet, Billy Hart opens Allenís arrangement alone on drums, rhythmically transforming the composition, which featured a Monkish melodic line with a boogie woogie mid-section in its earlier incarnation (described by trumpeter Dave Douglas as a post-modern construction). The Collectiveís interpretation is radically different, alluding to the impressionism of Herbie Hancock (Allenís primary influence) and the shifting moods and tempos of his work with Ron Carter and Tony Williams in the Miles Davis Quintet, before emphatically stating Mary Lou Williamsí memorable melody utilizing parallel octaves.

"Taurus," the second section of Zodiac Suite, was composed by Williams prior to the other sections of the suite. Representing her own birth sign, it is also dedicated to Duke Ellington and Ellis Larkins, Allenís reflective solo piano introduction replicating the elegance of those two pianists. The body of the piece is reminiscent of Ellingtonís "jungle band," with the pianistís ominous left hand line and dissonant right hand clusters setting the mood over Hartís mallets. Buster Williamsí melodic bass is spotlighted here.

Allenís arrangement of Williamsí "Gemini" follows the spirit of the original recording faithfully, utilizing an up tempo boogie woogie left hand line on top of which she builds a playful childlike theme assembled from a progressively constructed musical scale. After a brief ethereal interlude the trio restates the boogie woogie theme before moving into a more modernistic motif that hearkens to latter day Ellington.

"Cancer" is melancholy melody in a minor mode, a composition of uncommon beauty, that moves between Allenís slowly waltzing piano rhythm to a more open landscape created by Hartís quietly dynamic cymbals and Williams softly bowed bass.

Hart opens "Leo" boldly with a martial drum beat before Allen states the Williams themeís fanfare with a menacing exaggerated dissonance. Dedicated to Vic Dickenson, the pieceís middle section is a moving memorial to the great trombonistís beautiful way with a ballad, to which Allen introduces a modern harmonic touch reminiscent of Coltraneís "Naima" and Mc Coy Tyner, before the trio revisits the openingís flourishes.

"Virgo" is a swinging medium tempo blues that reflects Williamsí early allegiance to the bebop revolution. Allenís Monkish articulation follows the originalís mood, as does Buster Williams powerful walking bass. Mary Lou dedicated this composition to Leonard Feather, one of the new musicís first journalistic champions.

Allen performs "Libra" as a solo piano piece, just as Mary Lou originally did. The earliest composed section of the suite (along with "Aries"), Williams dedicated it to Dizzy, Art Tatum, Bud Powell and Monk, who she described as "very beautiful friends." As Dan Morgenstern observes in his notes to Zodiac Suite, it has a "very pretty opening and attractive, impressionistic harmonic movement" Ė qualities which make it a perfect vehicle for modern interpretation by Allen.

Buster Williams introduces "Scorpio" with a rhythmic bass figure and is then joined by Hart, with wide cymbals splashes followed by softly malleted drums, before Allenís entrance, which is vaguely reminiscent of Juan Tizolís Ellingtonian classic "Caravan" in its eastern mood.

The final four sections of the suite are all solo piano pieces originally improvised live by Williams on her weekly WNEW radio program. "Sagittarius" was first dedicated to pianist Eddie Heywood and later to bassist Bob Cranshaw by Mary Lou. Itís a thoughtful theme Morgenstern compared to Bix Beiderbeckeís "In A Mist." Allenís interpretation retains the originalís pastoral quality in a slightly more modern way that also hearkens to Bill Evans and Keith Jarrett. "Capricorn" is a melancholy melody in a minor mode (written for Williamsí Cafť Society compatriot, trumpeter Frankie Newton) that Allen delivers with percussive aplomb. "Aquarius" is an attractive piece with modulating moods that Williams dedicated to President Franklin Delano Roosevelt. The concluding "Pisces" is an elusive Williams waltz that highlights Allenís beautiful touch and tone.

The trio of Allen, Buster Williams and Andrew Cyrille perform pianist Herbie Nichols attractive composition "The BeBop Waltz," a piece Mary Lou recorded three times under the title "Maryís Waltz." Although the previous recordings improperly credited the composition to Williams, producer OíBrien sets the record straight here, noting the true composer and Williams love and respect for the unheralded genius, Nichols. Buster Williams is featured with a moving, articulate solo on this gorgeous rendition.

Billy Hart is back with Williams and Allen on "Intermission," the 1973 collaboration between Mary Lou and bassist Milton Suggs, previously recorded on the elder pianistís excellent Zoning album. The whole trio stretches out on this swinging interpretation of the exciting composition, with Allenís melodic pianism anchored by Buster Williamsí powerful bass ostinato and propelled Hartís energetic drumming.

The date concludes with "Thank You Madam," a tender ballad composed by Geri Allen in honor of Mary Lou Williams especially for this recording with Buster Williams and Andrew Cyrille. Producer OíBrien insightfully describes the piece as one which "is built up from a musical motif which gently rises and softly resolves, then rises again and resolves and continues in this hopeful manner, until it peacefully and quietly dissolves. It is a loving tribute from Geri Allen, who would especially know the musical heart of Mary Lou Williams."

Geri Allen, as musical director of the Mary Lou Williams Collective, is particularly well suited to revive the musical legacy of the great Mary Lou Williams. Zodiac Suite: Revisited, pristinely recorded by DJ Val Jeanty (of Allenís husband Wallace Roneyís band) on Allenís own piano in her Montclair, NJ home, is an intimate revisitation to this important music. Future releases by the Collective are to include a disc of nine Williams originals with guest appearances by vocalists Andy Bey and Honi Gordon and another date featuring some of Mary Louís previously unrecorded sacred music. With Geri Allen at the piano, the music of Mary Lou Williams is alive and well for yet another new generation of jazz lovers, ensuring the great ladyís musical immortality.

Media Contact:
Jim Eigo Jazz Promo Services
269 S Route 94 Warwick, NY 10990
T: 845-986-1677 / F: 845-986-1699
jazzpromo@earthlink.net
www.jazzpromoservices.com
Specializing in Media Campaigns for the music community, artists, labels, venues and events."