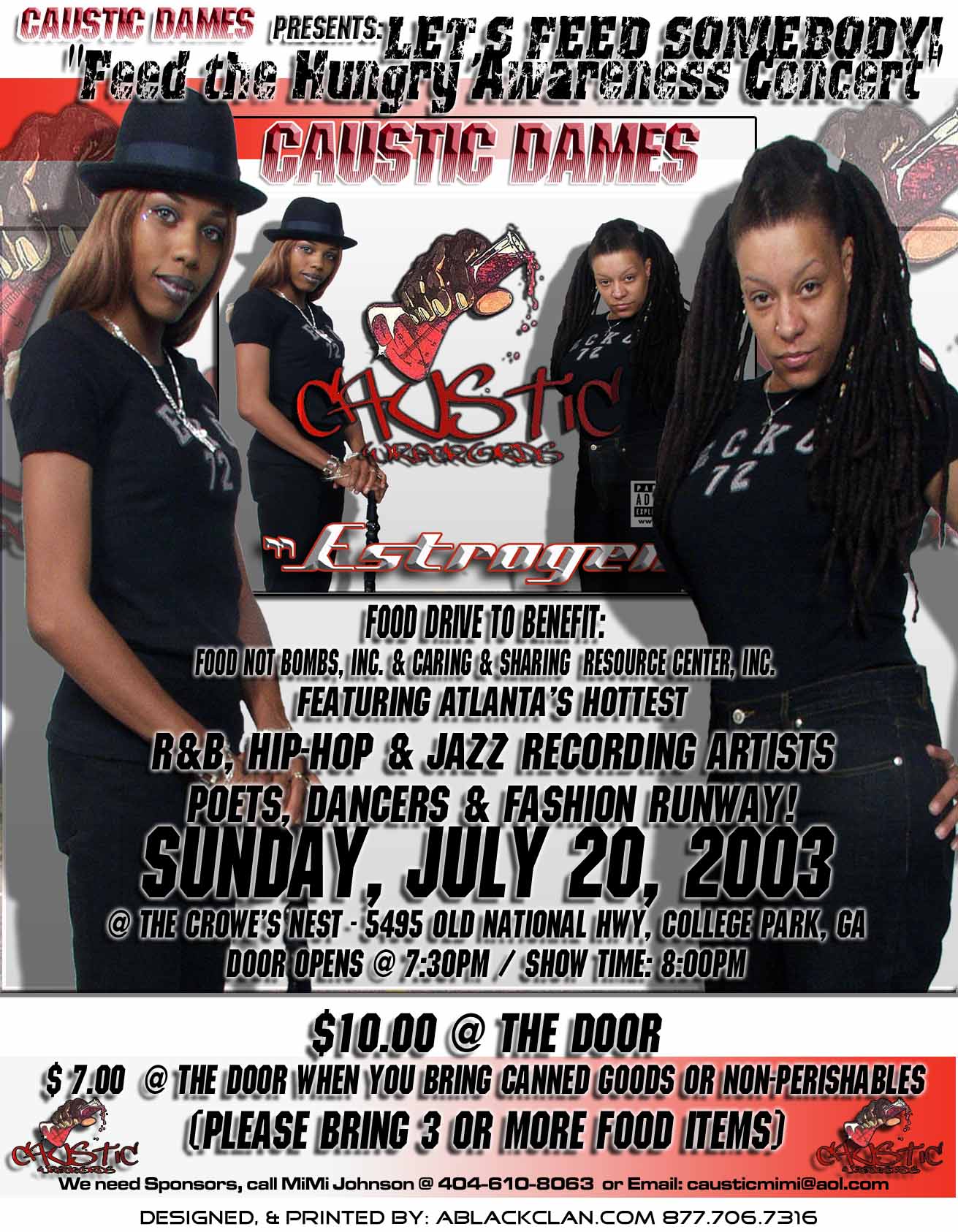 My hat goes off to Baby Spliph and Puss 'n' Boots of The Caustic Dames for their efforts to feed the homeless and hungry by presenting concerts to promote awareness of this social issue.
In memory of Mimi's departed husband, Glenn aka Trubble Phunk, we're building Caustic Studio in East Point, Georgia, to have a place to record the music of The Caustic Dames, Joan Cartwright and Jazz Hotline and other talented musicians in the area, nation and abroad. We plan to be open by the end of this summer.
Motherland Bridge Gallery will also be housed at the Caustic Studio. We'll be open to private collectors, only. We will offer framed batiks and Shona sculpture from South and West Africa, oils, acrylics, scratchboards, silk paintings, wood carvings and much more!
We'll be working with Millennium Entertainment to build a network of upcoming stars!
We are embarking on a joint venture - GaiaNews & Glitta Mimi and I will produce this two-part newsletter by encouraging our clients, associates and friends to advertise with a business card ad for $150. Sponsors and advertisers click here for more information.
We'll keep you abreast of the Feed the Homeless & Hungry Awareness Concerts, starting July 20, in Atlanta. Each month, we'll bring you top entertainment from the world of hip hop, r&b, jazz and comedy. Admission is $10 unless you bring 3 or more non-perishable food items, then you only pay $7 for top entertainment. Sponsors and advertisers click here for more information.
We send loads of light and love to Mimi's brother and my son, Michael, who suffered from an exploding ulcer, this week. We ask his MIGHTY I AM PRESENCE to help him rest, recuperate and regulate his life so that no further physical ailments will effect him, his beautiful wife, Regine and my gorgeous granddaughter, Maëlle.
Love and Light,
Grateful Goddess Joan
Have a rich day!
GaiaNews®© is quarterly.
To subscribe to printed newsletter,
mail check or money order for $15.00 to:
FYI Communications, Inc.
MOTHERLAND BRIDGE GALLERY
gaianews@aol.com